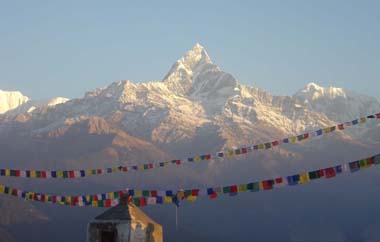 The magic of Nepal is impossible to ignore. From the world's highest mountains to dense lowland jungle, Nepal is one of the planet's most diverse and exotic travel destinations. Steeped in history and dominated by the majestic Himalayas, Nepal enthrals everyone who visits. Linked by a rich heritage the friendly peoples of Nepal have created a kaleidoscope of exotic customs and beliefs. An uncanny blend of natural splendour, warm settled weather, and phenomenal whitewater journeys make this tiny Himalayan country an absolute gem.
The diversity of this country and the opportunities for adventure that it offers are endless. Please choose from an activity below to see what adventures you could soon be heading away on...
Rafting & Kayaking
Our fully supported whitewater rafting and kayaking expeditions are thoroughly equipped to the last detail. Expert professional guides, safety kayakers, and state of the art equipment make challenging rivers possible More...
Mountain Biking
The foothills of Nepal are one of the best playgrounds for the adventurous mountain biker More...
Trekking
Trekking in Nepal is an intense cultural experience as well as an exploration of one of the world's most hiker-friendly and spectacular environments. Nepal has a staggering number of potential routes for trekkers More...
Multi-Activity/Custom Adventures
Why not take advantage of the World's biggest natural playground and combine a number of our activities to form the ultimate in Adventure Holidays! More...
Climbing & Trekking Peaks
Our mountain teams derive from the safest and most experienced climbing staff in Nepal. En route to the summit, you will learn the necessary skills to make your climbing expedition a quality experience More...